Dancer was another character in JD: Meant To Be. He is played by Tear In My Heartbeat Song (formerly DancerTheSinger).
Personality
Dancer is a different type of boy. Everyone likes him for his dancing and singing. He thinks life is nice, but when it's meant to be, he gets the serious picture behind his life.
Appearance
Dancer has blue eyes and white skin. He has blonde hair. He is 5 feet tall, like Pearl and Ballerina. He is a singer of the JD: Meant To Be group.
Trivia
As of Their Next Adventure, he is no longer a main member.
He is dating Ballerina.
He is bisexual, even though he is currently dating a girl on the show.
Quotes
"WHAT THE HECK IS THAT? Free-form, what? ABC FAMILY, HEELLLOOOO"
"Whos that little mouse, cause we love the Ballerina Albatraoz"
"I AM DONE HERE! Good. Bye."
"Where is the "I really need to kill someone right now" button?"
"This tastes bad!!!"
"Ummm.., I'm going to sing.... IDK BY IDK!"
"What a b-word!"
"Do you by any chance have a ghost I can bust?"
The Official Seal of Dancer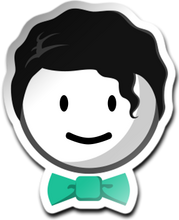 The Official Seal of Dancer is the What Makes You Beautiful avatar. It will be retrieved by Dancer when he sings the song to Ballerina.